The materials on this page are designed for easy use and sharing to promote Learning Forward's Annual Conference. Thank you for helping us build a great conference. We look forward to seeing you in December!
Text Description | Conference Program | Promotional Video | Backgrounds | Social Media | Badges | Justify Your Attendance Kit | Print Ads | Digital Graphics
What: Learning Forward's 2022 Annual Conference
Theme: Reimagine
When: December 4-07, 2022
Where: Nashville, TN
URL: https://conference.learningforward.org/
Hashtag: #learnfwd22
Social media
Use #learnfwd22 in all of your conference social media.
Follow us on Twitter, LinkedIn, and "Like" our Facebook page so you can like and share our conference posts.

New! Add the conference Twibbon (picture frame) to your Twitter or Facebook profile picture to show your support for educators' professional learning.
Posts to share
General

What an exciting year it's been for the professional learning field. Not only were the revised Standards for Professional Learning released this year, #LearnFwd22 -- one of the largest conferences devoted exclusively to PL -- SOLD OUT!
I PROUDLY #stand4PL! [Click here to tweet]

#LearnFwd22 is THE place for ed leaders to learn about the professional learning systems essential to implementing ongoing, evidence-based changes to teaching & learning. Though the event is sold out, you can still follow #LearnFwd22 DEC. 4-7 to see learning shared by attendees. [Click here to tweet]

Didn't get to register for #LearnFwd22 before it sold out? No worries. Participate virtually Dec. 4-7 by following the hashtag #LearnFwd22 on Twitter, Facebook, or LinkedIn or follow @LearningForward as they reshare attendees' posts of their learning. [Click here to tweet]
Attendees

I'm thrilled to be among the 3,000+ educators coming back in-person at the SOLD-OUT #LearnFwd22 to collect tools and strategies needed to understand and implement proven, evidence-based professional learning. [Click here to tweet]

We are reimagining professional learning for educators at all levels and we #Stand4PL! Use the hashtag #LearnFwd22 to join the conversation, Dec. 4-7. [Click here to tweet]
Presenters

I'm stocked to be among the 500+ presenters reimagining professional learning with 3,000+ education leaders from around the world at the SOLD-OUT Learning Forward 2022 Annual Conference in Nashville! #LearnFwd22 [Click here to tweet]

I'm delighted to speak at @LearningForward's SOLD OUT 2022 Annual Conference on Dec. 4-7! I invite you to join us virtually (by following hashtag #LearnFwd22) as we address how to build equitable learning communities that will help us reach deeper engagement & learning for all. [Click here to tweet]

Sponsors

We are proud to sponsor the SOLD-OUT Learning Forward 2022 Annual Conference on December 4-7 in Nashville, TN, where education leaders at all levels—policy, system, school, & classroom—will reimagine professional learning. #LearnFwd22 @LearningForward [Click here to tweet]
Text description
Copy and paste into newsletters, emails, etc.
Learning Forward's Annual Conference, known for more than 50 years as THE Learning Conference, is in Nashville, Tennessee, Dec. 4-7, 2022. In addition to marking their return to an in-person conference, this conference will also showcase their newly revised Standards for Professional Learning, released earlier this year.
This year's conference theme is Reimagine. We hope you'll consider attending this important learning event for its research-based strategies and focus on high-quality professional learning. 
This year's keynote speakers include:
Jessyca Mathews
Tracey Tokuhama-Espinosa
Principal Baruti Kafele
Conference program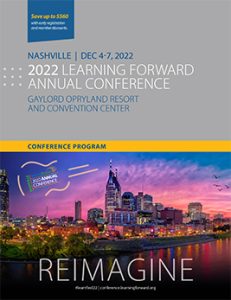 Promotional videos
See you in Tennessee for our 2022 Annual Conference from Learning Forward on Vimeo.
Link to share video: https://vimeo.com/652001491
Justify Your Attendance kit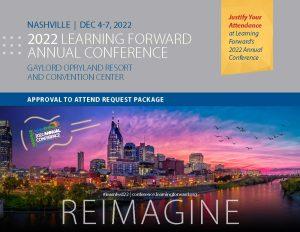 Print ads
High-resolution advertisements, suitable for printing. 
Full page print ad: 22nash_conference_FP_0622_2b
Zoom backgrounds
Use these fun backgrounds in your video calls. Click the link to see the full-size image.
Continuing education units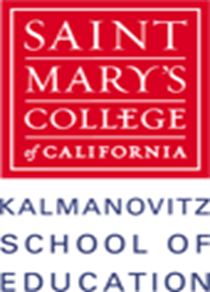 Saint Mary's College of California offers you the opportunity to earn affordable Continuing Education Units (CEUs) for attending Learning Forward's Annual Conference.
Ten hours of instruction equals one CEU. The cost for one CEU is $100. Download the 2022 Conference CEU Form and logs for more information or to apply for credit. 
For questions regarding CEUs, please contact Saint Mary's College of California, Kalmanovitz School of Education at 925-631-4700 or  KSOE@stmarys-ca.edu.