Text description
Copy and paste into newsletters, emails, etc.
Education leaders from around the world will gather in Washington, DC this December 3-6 to share professional learning expertise focused on creating and sustaining equity and excellence in teaching and learning every day.
Make connections and take home tools and strategies to understand and implement effective professional learning in classrooms, schools, and systems. This year's theme is Evidence into action, which speaks to the importance of evidence-based practices and how professional learning bridges research and implementation to improve results for each student. Join us to learn the latest best practices for classrooms, teams, buildings, systems, and regions.  
This year's keynote speakers include:
Chris Emdin
Sharron Helmke and panel
Brandi Hinnant-Crawford
Conference Preview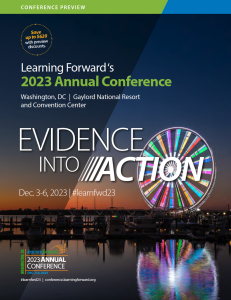 Justify Your Attendance kit
Download Justification Kit here. 
Print ads
High-resolution advertisements, suitable for printing. 
Full page print ad: Single-ad-dc23_conference
Zoom backgrounds
Use these fun backgrounds in your video calls. Click the link to see the full-size image.