BANNER homepage-2
2022 Annual Conference
Location: Nashville, TN
Conference dates: Dec. 4-7, 2022
Looking for session archives? Click on your personalized access link emailed to you before the conference. Contact the Business Office if you need the link resent. (800-727-7288 or office@learningforward.org)  
Call for proposals, 2022 Annual Conference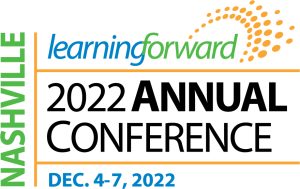 The 2022 Call for Proposals is now OPEN! The deadline to submit proposals is 11:59pm EST on Tuesday, February 1, 2022.
The 2022 Annual Conference will mark our return to an in-person conference, held in Nashville, Tennessee at the Gaylord Opryland Resort and Convention Center Dec. 4–7, 2022.
The theme for our 2022 conference is REIMAGINE. As we look forward to 2022, how do you reimagine professional learning?
To submit a proposal, review instructions, or view a sample proposal, login to the Proposal System using your Learning Forward member login.
We hope to see you next December in Nashville!
JUST ADDED: Secretary of Education Miguel Cardona to provide closing remarks on Tuesday, December 7.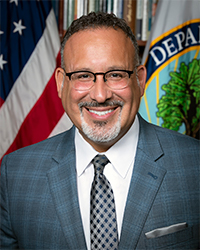 Learning Forward is pleased to announce that U.S. Secretary of Education Miguel Cardona will speak at the Learning Forward 2021 Virtual Conference. As a former teacher, principal, district leader, and state commissioner of education, Secretary Cardona is a champion for educators. He understands the needs of educators and recognizes the support they will need to ensure that all students have opportunities for rigorous and meaningful learning experiences.
Secretary Cardona's participation at the Learning Forward conference underscores his commitment to professional learning, innovation, and connection – much needed forces as we work to rebuild and grow the education system in this country. Don't miss the opportunity to hear Secretary Cardona speak as he acknowledges and elevates the work that the Learning Forward community accomplishes every day.
New this year: 90 days of access
We know that being able to collaborate and learn together is important for social and emotional health and for adult learning, so we have made this year's conference available to you for a full 90 days after the conference is over. Enjoy the freedom to work your learning into your schedule.
Enjoy more than 100 sessions, brought to you by top experts including Thomas Guskey, Marcia Tate, Michael Fullan, Zaretta Hammond, Nancy Frey, Doug Fisher, Joellen Killion, Jim Knight, and many more!
These sessions move beyond sit-and-get listening to offer collaborative opportunities to:

Network with other educators who are experiencing similar challenges;
Stay on top of best practices from leaders in the field;
See first-hand the kinds of dynamic, interactive learning experiences that change educator practice at all levels.
The Transformation Toolkit is the newest version of the Conference Action Toolkit, updated and renamed to reflect the 2021's theme of Transformation. This set of resources is specifically designed for individuals and teams to organize and make sense of everything learned at a conference--from keynote speakers, session presenters, other educators, and vendors--and provides a means for taking actionable steps.

[Click to tweet]
Exciting news! You can NOW register for @LearningForward's 2021 Virtual Annual Conference! Take a look at this year's sessions and presenters: https://conference.learningforward.org/ #LearnFwd21
Why we chose transformation as our theme for 2021
Professional learning for educators encompasses numerous roles, challenges, topics, and strategies. Our conference is known for a large selection of sessions and presenters to meet this variety of needs. With so many different topics and learning goals, one through-line that we want to recognize this year is transformation.
The learning at our conference shifts your perspectives, powers up your expertise, transforms your practice, and ultimately improves the broader results of your work. This year especially, the theme of transformation parallels our shared experiences as we respond to the immediate needs of educators and students during challenging times.
Learning Forward is not waiting for transformation to happen. We are charging into 2021 with intentionality and determination. Join our 2021 Annual Conference and experience for yourself how high-quality professional learning can transform practice and student results.
Central office administrators

Superintendents

Policymakers and decision makers
Teacher leaders/Coaches

School-based teams
Principals/Assistant principals

Technical assistance providers
Earn CEUs for your attendance
Saint Mary's College of California offers you the opportunity to earn affordable Continuing Education Units (CEUs) for attending Learning Forward's Annual Conference.
See what the excitement is about
This is by far my favorite conference. I always walk away feeling smarter and more prepared to do the work!
Read More